As part of the upgrading of broadcasting services, 4K/8K Ultra HD broadcasting has been promoted. Compared to regular high definition, 4K/8K have 4 times and 16 times the number of pixels respectively, enabling us to enjoy images with a greater sense of realism than ever before.In Japan, commercial 4K/8K broadcasting began in 2018. Ministry of Internal Affairs and Communications has developed a roadmap aiming to promote and popularization of the service by 2025.Now, more and more satellite broadcasters and Internet distribution service providers worldwide have begun distributing 4K/8K contents.
Broadcast equipment manufacturers are also releasing various corresponding products.SSDs that are embedded in such products are also required to be faster than ever.Many customers are now going for NVMe interface SSD storages as the replacement for their SATA SSDs.
Our working styles have changed dramatically due to Covid 19. This is another factor that has accelerated the rapid popularization of NVMe SSDs.
There are several challenges when working on video editing in a remote environment.
For example, it takes time to download the image material from the server, and each editor needs a GPI workstation.
Introducing a VDI server with embedded NVMe SSD, of which processing speed is a lot faster, can cut down on time and hardware costs and solve these problem.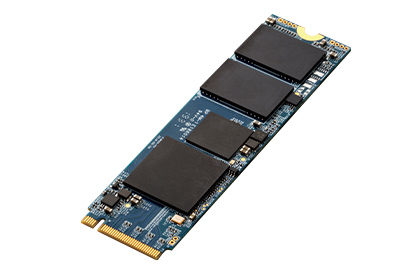 M.2 2280 NVMe SSD
240GB~3840GB FSN8E Series
U.2 2280 NVMe SSD
240GB~3840GB FSN2E Series
* Company names/Product names listed in this page are registered trademarks or trademarks of their respective companies