Products mentioned in this article
Introduction
On February 3, 2022, we Hagiwara Solutions announced the launch of our M.2 form factor PCIe Gen3x4 NVMe SSD H series.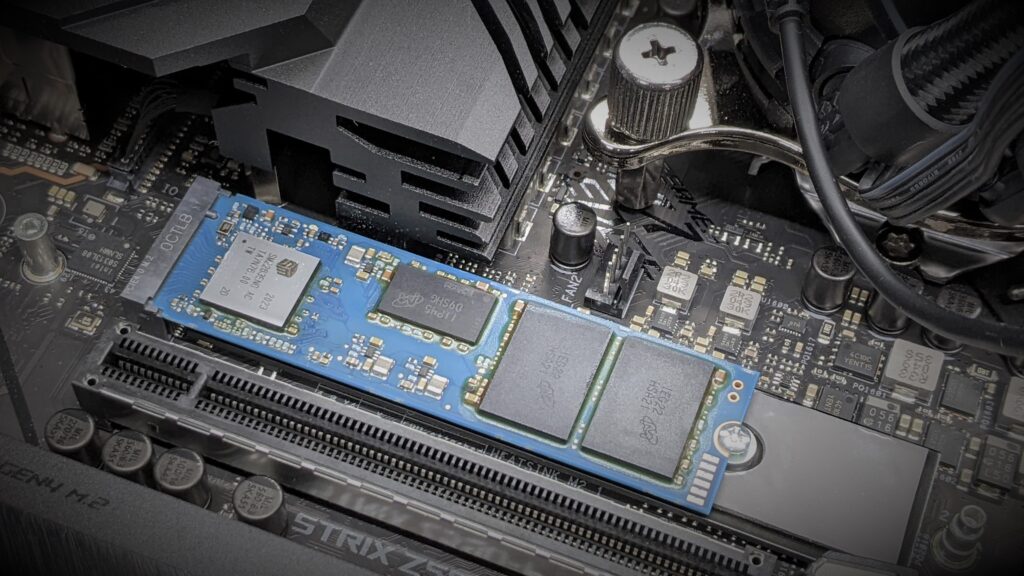 In this regard, we installed Windows 11 on this M.2 SSD and confirmed its operation.
As a result, the installation of Windows 11 on the H-Series NVMe SSD was completed without any issues, and Windows 11 is functioning properly.
This article provides an introduction of H Series and summarizes the results of the operation verification of the H Series NVMe SSD through the installation of Windows 11.
Key Point
Successful installation of Windows 11 on NVMe SSD H Series
NVMe SSD H Series operates with Windows 11 standard device drivers, and no special device driver installation is required
Features of NVMe SSD H Series
The NVMe SSD H Series is an SSD equipped with 3D NAND flash memory for industrial equipment.
This product features compatibility with PCI Express 3.0 (4 lanes) and incorporates functions that improve the reliability of recorded data, ensuring long-term stable operation. It is an optimal storage solution for next-generation systems that require reliability for operating systems, system data, and user data, enabling high-speed data processing and transfer.
With a wide operating temperature range from -40℃ to 85℃ and long-term supply, it is being considered for use in applications such as sensing data recorders for autonomous driving development, image inspection devices for factories and hospitals, broadcasting recorders and transmission devices, as well as 5G communication-related equipment.
For this article, we used the SLC mode 640 GB model.
Suitable Storage Capacity for Windows 11?
Microsoft states that the storage requirement (capacity) for systems to install Windows 11 is a minimum of 64 GB.
However, Microsoft also mentions that 64 GB may not be sufficient for smooth Windows updates and system operation.
By the way, according to the storage capacity of Windows 11 compatible PCs mentioned in a blog post by Microsoft announcing the release date of Windows 11, the minimum capacity found was at least 256 GB.
This is because Microsoft concluded that, for continuous system updates, installation of application software, storage of various data, and comfortable system operation, a minimum storage capacity of 256 GB would be necessary.
Furthermore, it may be difficult to find an SSD with a capacity less than 256 GB that meets the cost requirements and has sufficient performance.
As NAND flash memory-based SSDs generally have longer lifespans and higher access performance as the capacity increases, products in the capacity range beyond 256 GB (from 480 GB to 512 GB) would be preferable rather than 256 GB.
Of course, it is undeniable that the capacity range closer to 1 TB than around 512 GB is recommended both in terms of performance and lifespan.
Installation of Windows 11 on NVMe SSD H Series
The following screenshot shows the result of installing Windows 11 on the NVMe SSD H Series.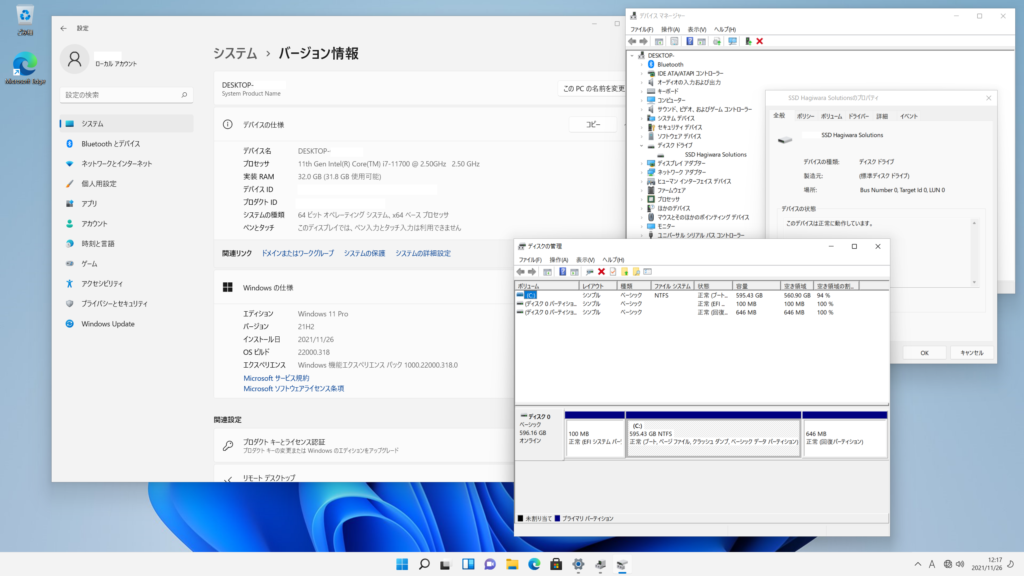 As shown, the installation of Windows 11 on the H Series NVMe SSD was successfully completed, and it is functioning properly.
During the installation, we did not install any special NVMe drive-specific device drivers, so it was confirmed that the H Series SSD operates with the standard device drivers of Windows 11.
We also conducted benchmark tests using CrystalDiskMark. The results are shown in the following figure.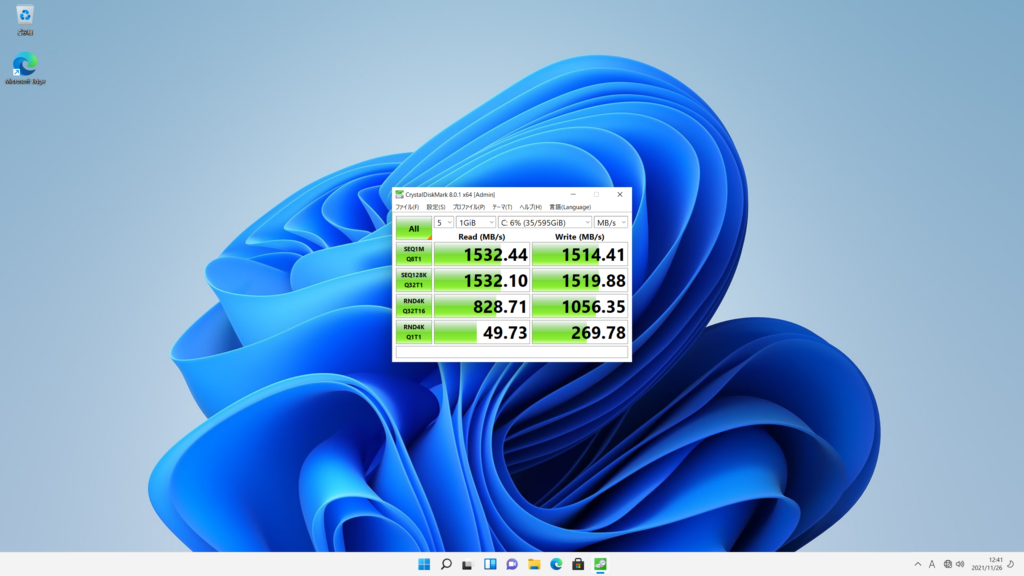 It can be seen that the values are on par with the performance stated in the press release.
Conclusion
In this article, we introduced the features of our NVMe SSD H Series and provided the results of basic operation verification through the installation of Windows 11.
We hope this article serves as a reference for those considering the introduction or transition to Windows 11.
In the next article, we plan to present the results of obtaining S.M.A.R.T. information for NVMe SSD H Series on Windows 11.
Operating Verification Environment
Below are the main items of the operating verification environment used in this session, excluding storage.
| Item | Description | Remarks |
| --- | --- | --- |
| CPU | Intel Core i7-11700 | 8 cores, 16 threads, 2.50 GHz operation (4.90 GHz in Turbo) |
| motherboard | ASUS ROG STRIX Z590-F GAMING WIFI | ATX, Z590 chipset, 2 PCIe Gen4 M.2 slots |
| memory | 32 GB | Crucial DDR4-3200 16GB (CT16G4DFD832A) x 2 |
| OS | Windows 11 Pro | build 22000.318 (obtained from Microsoft Developer Network) |
Table: Specifications of major parts for confirmed operating environment
Trademarks of Other Companies
Although registered trademark marks are not indicated in the articles, company names and product names appearing in the articles are generally trademarks or registered trademarks of the respective companies.
About the article
The content of this article is information at the time of publication. Please note that the information is subject to change without notice.
Contact Us
May we have your feedback?